At first, becoming a motorcyclist can be a bit confusing. This guide has been designed to make the process of aquiring your motorcycle license clearer and simpler. This is not intended as an exhaustive guide, more so as a 'quick start' check list for those new to, or relatively new to motorcycling. If you have any questions, please do not hesitate to contact us.
1. Licensing Centre Locations
Joondalup
65 Boas Avenue
Joondalup 6027 WA
View Map
Kelmscott
34 Gillam Drive
Kelmscott WA 6111
View Map
Mandurah
Corner Ranceby Avenue & Pinjarra Road
Mandurah WA 6210
View Map
Midland
Midland Gate Shopping Centre, Cale Street
Midland WA 6056
View Map
Morley
63 Russell Street
Morley WA 6062
View Map
Rockingham
37 McNicholl Street
Rockingham WA 6168
View Map
West Perth
Corner Troode Street & Plaistowe Mews, City West
West Perth WA 6005
View Map
2. What kind of license?
To get a class R-N (moped up to 50cc), R-E (motorcycle restricted up to 250cc and LAMS) or R (motorcycle unrestricted over 250cc) licence, you first need to obtain a learner's permit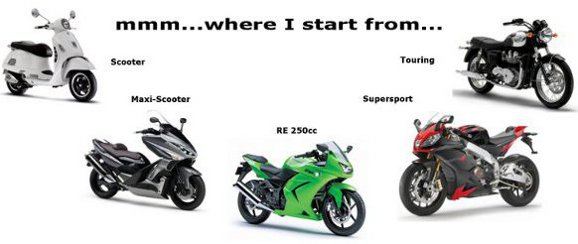 3. Learners Permit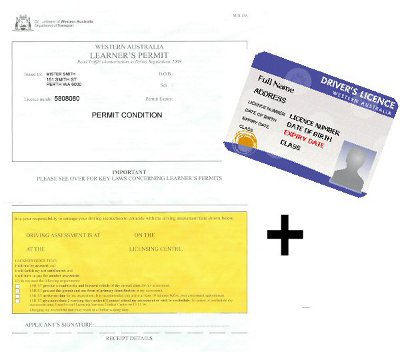 Before you are issued with a learner's permit, you will have to:
Obtain your parent or legal guardian's consent


If you are under 18 when you apply for a rider licence, you must have a letter of consent signed by your parent or legal guardian.

Pass a computerised theory test


Answer a series of questions on the road rules and some specific questions relating to riding motorcycles.

As with all learners' permits, you are not allowed to ride on the road unless you have a supervisor with you. This can be a licensed professional riding instructor or someone who currently holds a valid licence for the same motorcycle class as your learner's permit. Your supervisor must have held that class of licence class or equivalent for four years or more.

In the case of a moped, your supervisor must have held a class R-E or R licence (or equivalent) for at least two years.

You must ride within the restrictions or conditions shown on your permit.

Your supervisor can be carried on the pillion seat or in the sidecar, or they may ride another motorcycle. You must display 'L' plate while you are riding.

You can only learn to ride on a motorcycle that is within the same engine capacity range as the class shown on your learner's permit. You need to read Drive Safe book beforehand, as the information will help you to answer the test questions. You can also practice the learner's test on the website www.dpi.wa.gov.au/licensing to help you pass the test.

Pass an eyesight test


If you need glasses or contact lenses to pass the test, your permit and licence will be endorsed to show that these must be worn when you drive.

Pass a medical test (if required)


If you have a medical condition and/or take medication, you MUST declare this on the application form when you apply for a rider's licence. The customer service officer will advise whether or not you will need to have a medical assessment before.
4. Automatic or manual?
You need to think about what type of motorcycle you want to ride.